Around the Town

by

Steve Zall and Sid Fish

February 2020

Here are some of the shows you can see in our local theaters this month: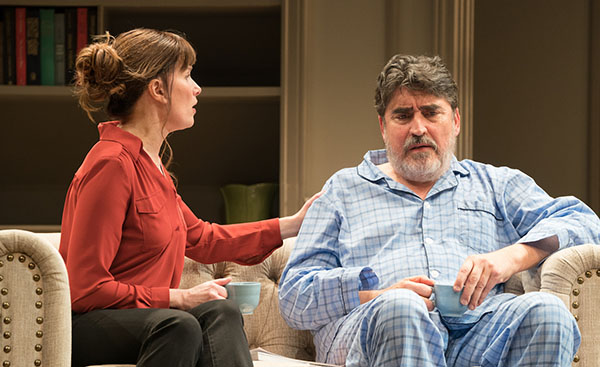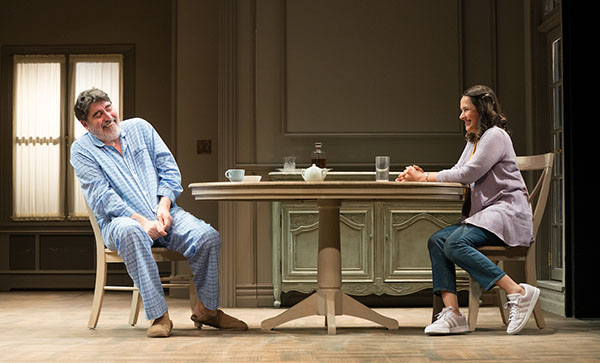 "The Father" stars Alfred Molina in a tour-de-force role in perhaps one of the most awarded plays of recent times on two continents. André was once a tap dancer. He lives with his daughter, Anne, and her husband, Antoine. Or was André an engineer, whose daughter Anne lives in London with her new lover, Pierre? The thing is, he is still wearing his pajamas, and he can't find his watch. He is starting to wonder if he's losing control. Written by Florian Zeller, translated by Christopher Hampton, and directed by Jessica Kubzansky, it runs February 5 through March 1 at the Pasadena Playhouse in Pasadena. For tickets call 626-356-7529 or visit www.pasadenaplayhouse.org.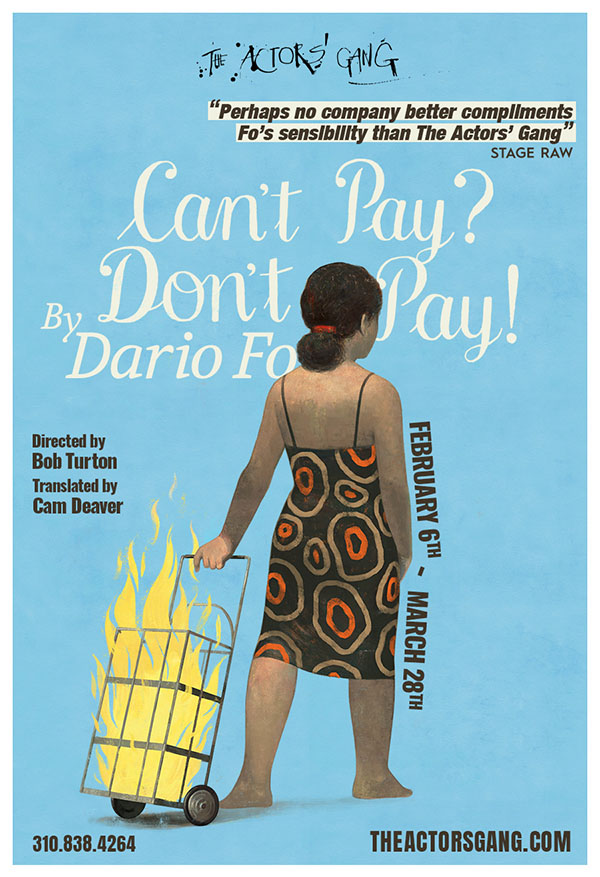 "Can't Pay? Don't Pay!" Hungry and fed up by rising prices and stagnant wages, humble housewife Antonia joins a revolt of women at the local supermarket. Determined to live with dignity and rejecting an austerity diet of dog food and birdseed, the women's protest escalates, and looting ensues. As police search door to door, Antonia and her friend Margherita frantically try to hide their 'liberated' goods from their husbands and the police. Written by Dario Fo, translated by Cam Deaver, and directed by Bob Turton, it runs February 6 through March 28 at the Actors' Gang Theater in Culver City. For tickets call 310-838-4264 or visit www.TheActorsGang.com.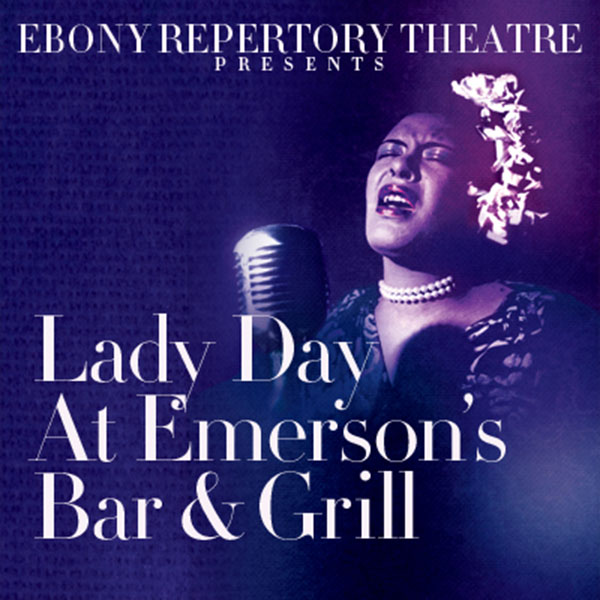 "Lady Day at Emerson's Bar and Grill" The time is 1959, a seedy bar in Philadelphia. The audience is about to witness one of Billie Holiday's last performances, given four months before her death. More than a dozen musical numbers – including "What a Moonlight Can Do," "Crazy He Calls Me," "Easy Living," "Strange Fruit," "Taint Nobody's Biz-ness If I Do," and "God Bless the Child" -- are interlaced with salty, often humorous, reminiscences to project a riveting portrait of the lady and her music. Written by Lanie Robertson, and directed by Wren T. Brown, it runs February 6 through March 1 at the Nate Holden Performing Arts Center in Los Angeles. For tickets call 323-964-9766 or visit www.ebonyrep.org.


"The Manor- Murder and Madness at Greystone" The show is a roman a clef, a fictionalization based on real events with the actual historical characters given new names. To lend authenticity to the presentation, the show is presented in the grand and glorious architectural landmark in which the events of 90 years ago actually took place. Audience members are led from room to room in the lovingly restored marvelous Greystone Mansion as different scenes of the narrative are portrayed, leading up to a shocking and apparent murder and suicide. The Manor- Murder and Madness at Greystone depicts momentous changes in the fortunes of the fabulously wealthy MacAlister Family (fictional surrogates of the oil-rich Doheny Family). Family patriarch and mining tycoon Charles makes an illegal if well-intentioned loan to Senator Alfred Winston (a stand-in for Secretary of the Interior Albert Fall). Both men face imminent disgrace and worse in the oncoming Teapot Dome bribery scandal, which will engulf the Warren Harding administration. A scion of the MacAlister family faces violent death. Written by Kathrine Bates, and directed by Martin Thompson, it runs February 6 through March 1 at the Greystone Mansion, in Greystone Park in Beverly Hills. For tickets call 310-364-3606 or visit www.theatre40.org.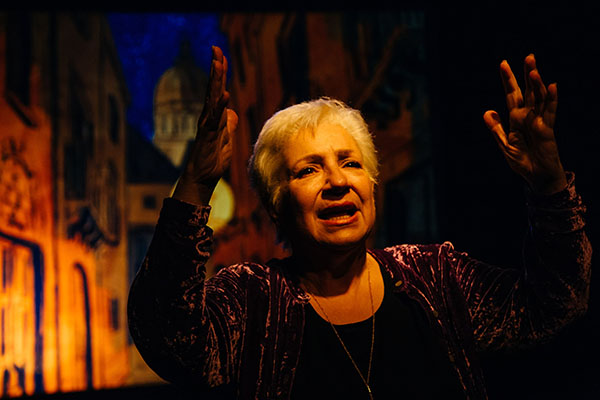 "Activities of Daily Living" An aging woman receives her Medicare card and is expected to don a cloak of invisibility, in the marginalization that Society will expect her to accept. She'll have none of that. She's still vital and more than ready to deal with whatever she may encounter. She has been reading a pamphlet called the Activities of Daily Living. Written by Joanna Lipari, and directed by Beth Dunnington, it runs February 7 through February 23 at the Sierra Madre Playhouse in Sierra Madre. For tickets call 626-355-4318 or visit www.sierramadreplayhouse.org.


"Frida- Stroke of Passion" The play begins on July 6, 1954, Frida's 47th birthday. She will die exactly one week later. The narrative will explore the mysterious circumstances surrounding her death. (There is an official account of her cause of death, but how did she die really?) This is not all, however. It is the story of a woman living as vibrantly as she can despite dwindling health and a world of pain. She attempts to continue painting. Partially anesthetized by a mixture of tequila and painkillers, she is visited by many lovers, male and female, singer Chavela Vargas, movie star Maria Felix, Communist politician Leon Trotsky, entertainer Josephine Baker, Cuban spy Teresa Proenza, photographer Tina Modotti, and Frida's husband, painter and muralist Diego Rivera. Some are physically present in her room, others are recreated and present in her vivid memory. The relationship between Frida and Diego is deeply complex. Diego is incapable of sexual monogamy, so much so that he practically pushes Frida into the arms of other lovers. Yet their emotional attachment to each other is surpassingly deep and a thing of wonder. Written and directed by Odalys Nanin, it runs February 7 through February 16 at the Casa 0101 Theater in Los Angeles. For tickets visit www.eventbrite.com/e/frida-stroke-of-passion-tickets-85497484277.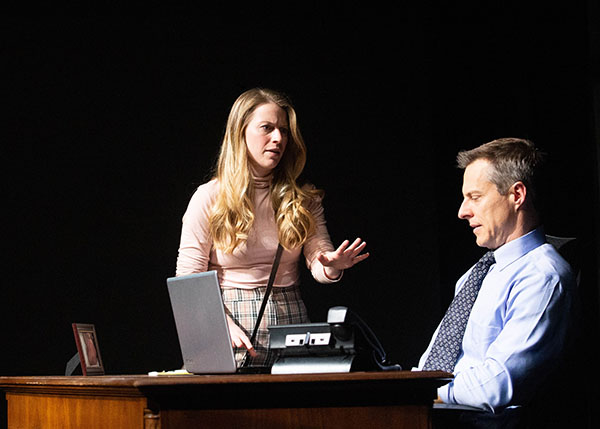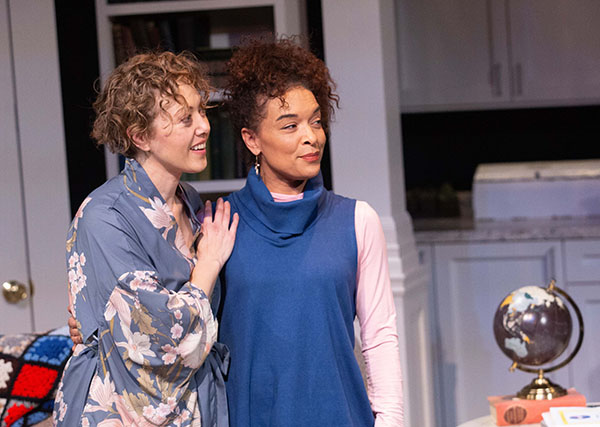 "Never Not Once" follows Eleanor, a young biology student raised by two moms who is curious about her genetics. She comes home from college to introduce her boyfriend to her mothers, and tells them she has hired a private investigator to find her father. As Eleanor continues her journey, unexpected and explosive revelations must be confronted before Eleanor and those around her can move forward. Written by Carey Crim, and directed by Katharine Farmer, it runs February 8 through February 23 at the Rubicon Theatre Company in Ventura. For tickets call 805-667-2900 or visit www.rubicontheatre.org.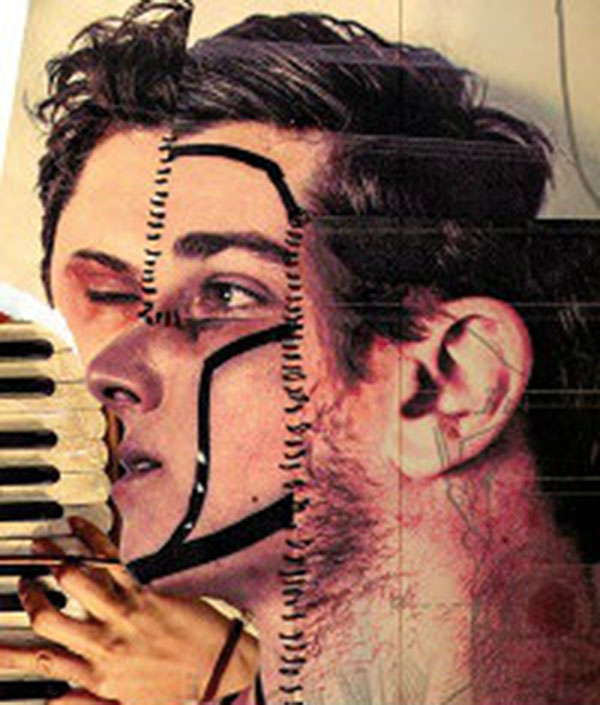 "Frankenstein" is an exuberant amalgamation of dynamic physical theatre, live music and experiential design that brings the tale to life in a modern take that spotlights the dangers of unregulated technology. Sourced predominantly from Shelley's novel in conjunction with its 200th anniversary, the production awakens new questions about moral responsibility for each generation. Written by Four Larks After Mary Shelley, with music by Mat Sweeney, and directed by Mat Sweeney, it runs February 12 through March 1 at the Wallis Annenberg Center for the Performing Arts Lovelace Studio Theater in Beverly Hills. For tickets call 310-746-4000 or visit www.TheWallis.org/Frankenstein.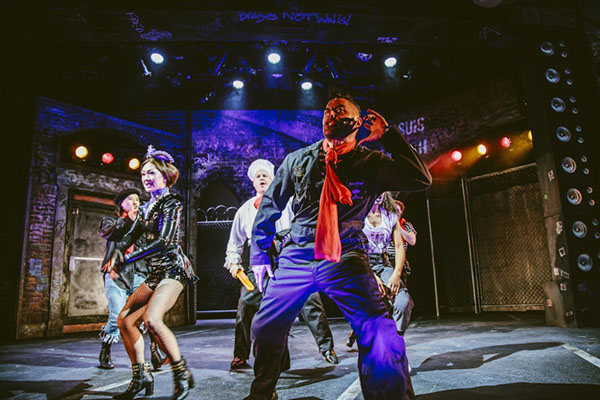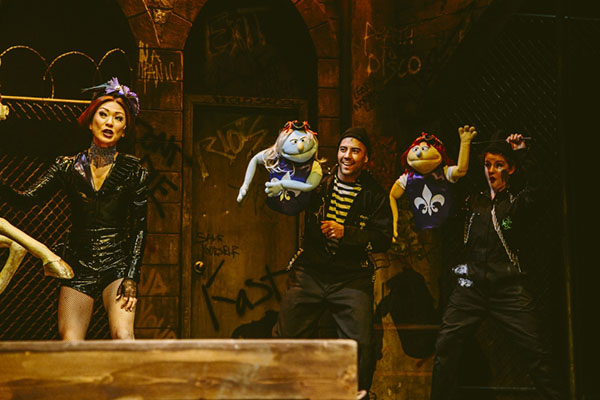 "Revenge Song: A Vampire Cowboys Creation" A rousing, romping, music-filled look at the real life of Julie d'Aubigny, a queer 17th century French swordswoman and opera singer, Revenge Song is a heroine's journey toward self-discovery and acceptance. In this world premiere Geffen Playhouse commission, conversations about gender and sexuality blend together with the outrageous fun and superhero style of the Vampire Cowboys Theatre Company to create a genre unto itself—a hilarious, historical comedy with hip hop, rock and epic fight scenes. Written by Qui Nguyen, with music by Shane Rettig, lyrics by Qui Nguyen., and directed by Robert Ross Parker, it runs February 13 through March 8 at the Gil Cates Theater at Geffen Playhouse in Los Angeles. For tickets call 310-208-5454 or visit www.geffenplayhouse.org.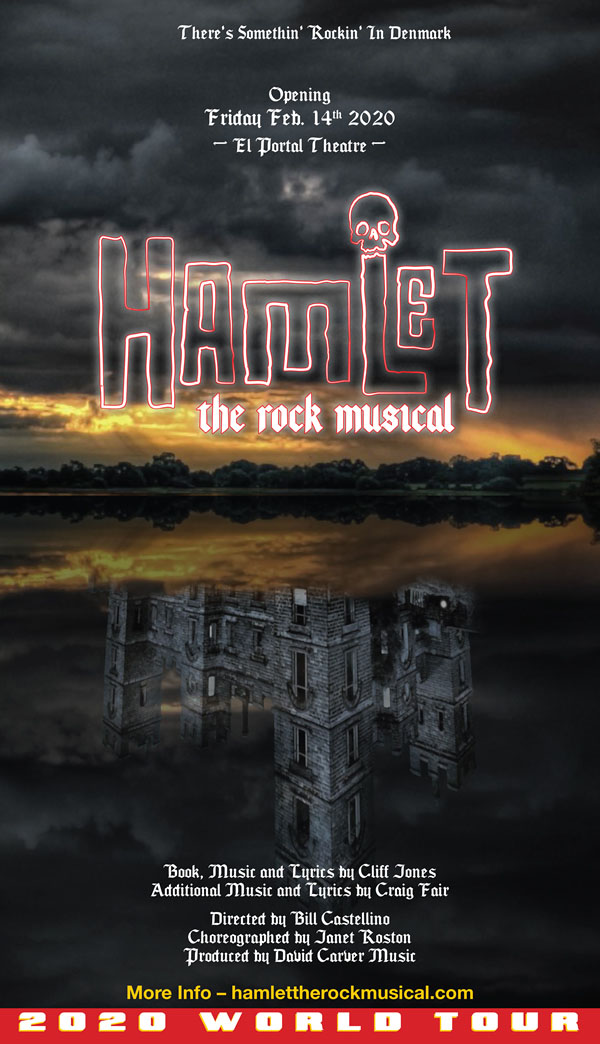 "Hamlet the Rock Musical" In 1976 Broadway history was made, not because of the well-earned multiple night show ending standing ovations, but because just 11 numbers into the 35 song show, Leata Galloway (Gertrude) received a show stopping standing ovation after delivering a theatre shaking, emotionally driven performance of All My Life. In 2020 Los Angeles will make history again when the 21st Century re-imagined version of Hamlet the Rock Musical premieres at the legendary El Portal Theatre. Written by Cliff Jones, with music by Cliff Jones and Craig Fair, and directed by Bill Castellino, it runs February 14 through February 23 at the El Portal Theatre in North Hollywood. For tickets call 818-508-4200 or visit www.hamlettherockmusical.com.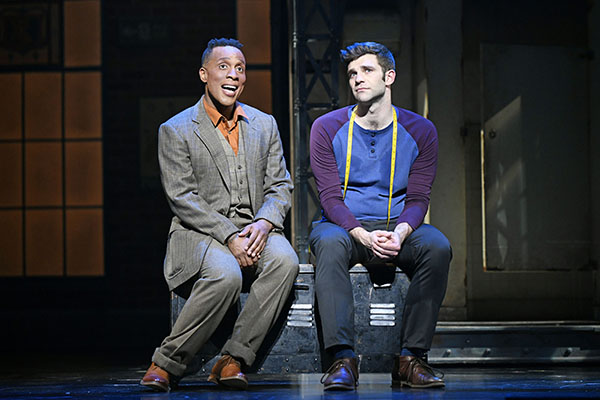 "Kinky Boots" This big-hearted musical tells the tale of Charlie Price, who is struggling to save his family factory from closure, and Lola the entertainer who tries to help him with wild ideas. The unlikely pair create a snazzy line of stilettos that lights the world on fire, and in the course of it all both learn valuable lessons about compassion and accepting each other's differences. Written by Harvey Fierstein, with music by Cyndi Lauper, and directed by John Tartaglia, it runs February 14 through March 1 at the Cerritos Center for the Performing Arts in Cerritos. For tickets call 562-916-8500 or visit www.3dtheatricals.org.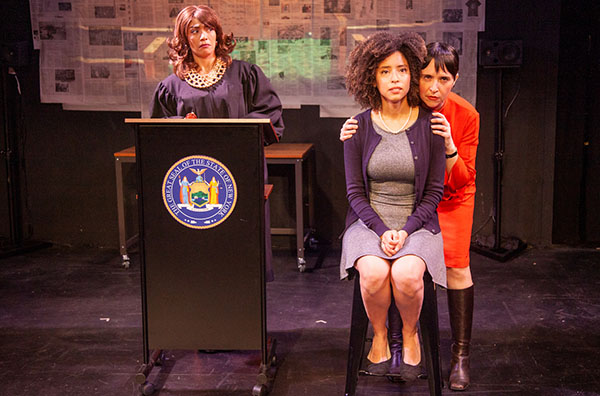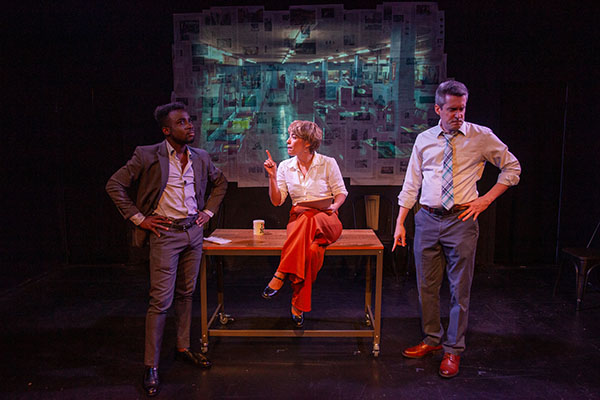 "Law and Order: The Musical!" A grisly murder has taken place, and cops and lawyers can't stop screwing up their quest for justice. Who killed the seemingly saintly housewife turned prostitute? Is it mob related? A closeted gay foodie? A pompous doorman? Each twist leads to more absurdity and perhaps some insight into what truly ails our criminal justice system. Think Airplane!... with songs and social commentary. For fans of the original beloved series, there are winks and jokes a plenty. For all the hilarity in the new spoof, however, it's also an edgy and engaging whodunit that will keep you guessing until the very last scene. The action is scored with ten eclectic and original songs. Written and directed by Ilyse Mimoun, with music by Jeremy Adelman, lyrics by Ilyse Mimoun, it runs February 14 through March 15 at the Broadwater Second Stage Theater in Hollywood. For tickets call 800-838-3006 or visit www.brownpapertickets.com/event/4470025.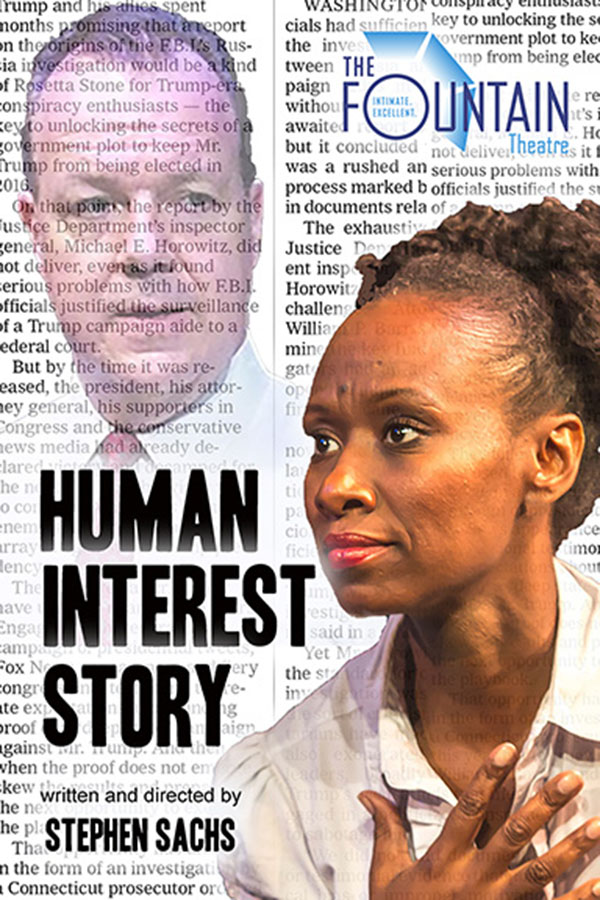 "Human Interest Story" A timely drama about homelessness, celebrity worship and the assault on American journalism. Newspaper columnist Andy Kramer is laid off when a corporate takeover downsizes the City Chronicle. In retaliation, Andy fabricates a letter to his column from an imaginary homeless woman named "Jane Doe" who announces she will kill herself on the 4th of July because of the heartless state of the world. When the letter goes viral, Andy is forced to hire a homeless woman to stand-in as the fictitious Jane. She becomes an overnight internet sensation and a national women's movement is ignited. Written and directed by Stephen Sachs, it runs February 15 through April 5 at the Fountain Theatre in Los Angeles. For tickets call 323-663-1525 or visit www.FountainTheatre.com.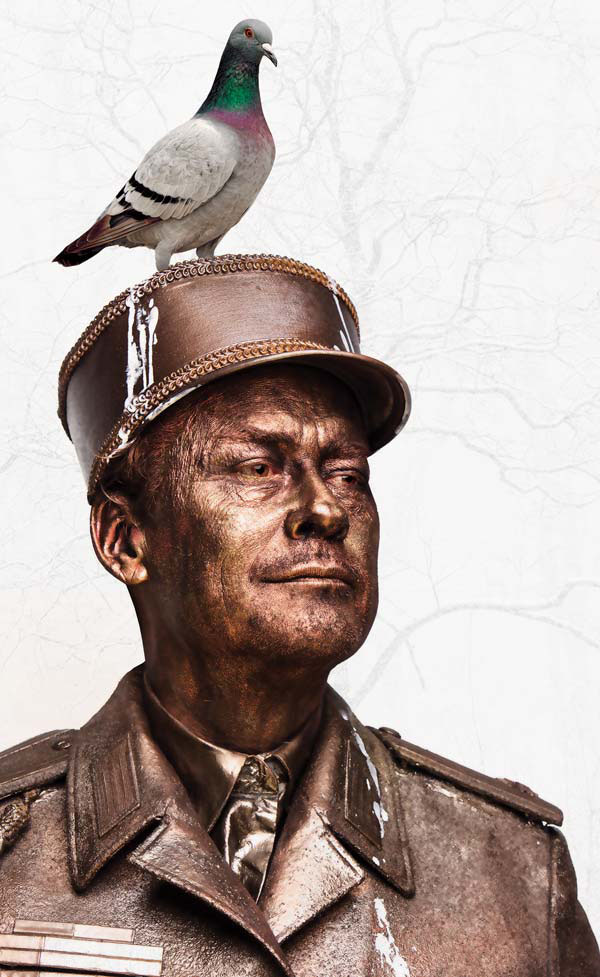 "The Winter's Tale" re-discovers all that was thought to be lost: old friendships restored; families reunited; and star-crossed lovers beating the odds to be together. Even the most impossible miracles become possible through fantastical feats and wondrous magic. Written by William Shakespeare, and directed by Geoff Elliott, it runs February 15 through April 11 at the A Noise Within in Pasadena. For tickets call 626-356-3121 or visit www.anoisewithin.org.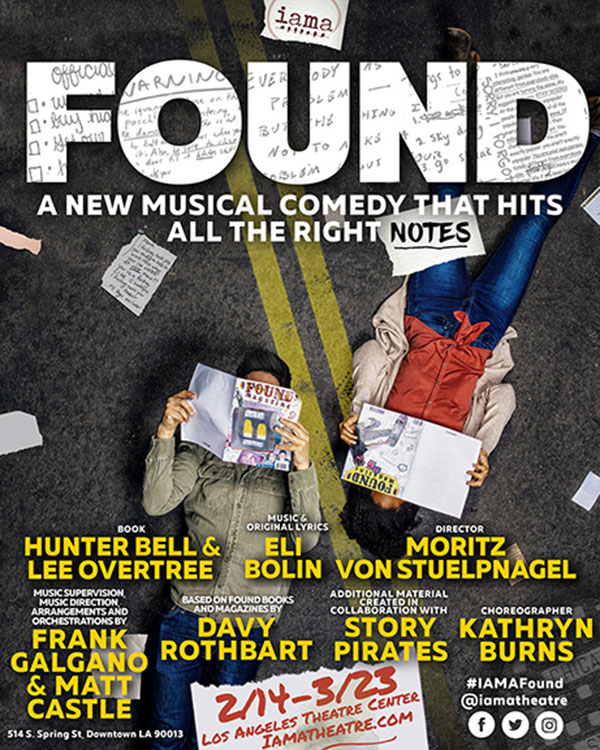 "Found" isn't just based on a true story, it's based on hundreds of them! When the lost and broke Davy happens to find a peculiar note meant for someone else on the windshield of his car, it sparks an outlandish idea to collect the hilarious and revealing notes and letters that surround us every day. Along with friends, Denise and Mikey D, they're quickly swept up into a wild, comedic mission to share them with the world. Inspired by Davy Rothbart's popular Found magazine, featuring scores of actual discarded notes and letters that have been "found" in the real world by everyday people, this original musical comedy is a raucous exploration of human connection and the beautiful weirdness in all of us. Written by Hunter Bell and Lee Overtree, with music by Eli Bolin, and directed by Moritz von Stuelpnagel, it runs February 20 through March 23 at the Los Angeles Theatre Center in Los Angeles. For tickets call 323-380-8843 or visit www.iamatheatre.com.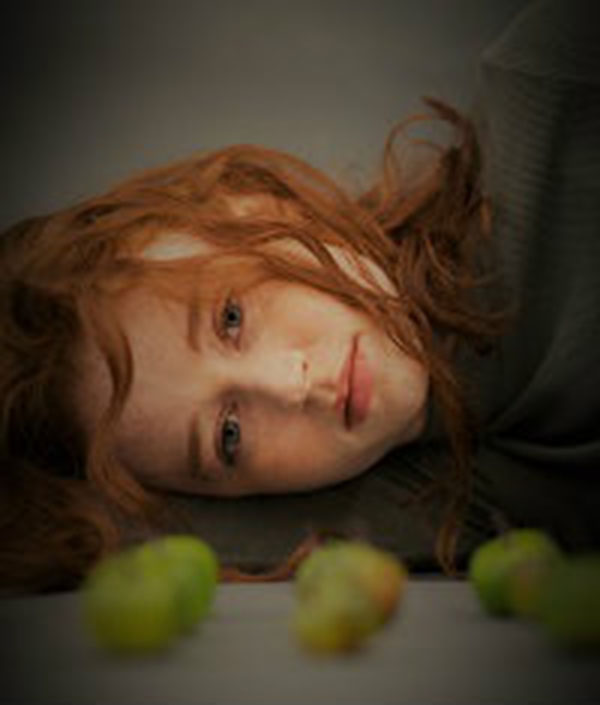 "Lucid" tells the story of a group of individuals who join a sleep study, hoping to cure their insomnia. But when an unexpected woman shows up, they find themselves trapped in a bizarre collective dream state that forces them to confront dark secrets and hidden truths. Striking, surrealistic and full of unexpected juxtapositions, the devised physical theater work incorporates movement, imagery, soundscape, live and recorded music, as it asks us to look more closely at the waking lies we tell ourselves, the quiet prejudices we carry, and the role fear has in inflating human ego. Written by the ensemble, inspired by Carol Churchill's Adaptation of August Strindberg's A Dream Play and the Poems of Anne Sexton, and directed by Madeleine Dahm, it runs February 20 through March 1 at the Hudson Theatre - Mainstage in Los Angeles. For tickets visit www.bit.ly/2TrZrCD.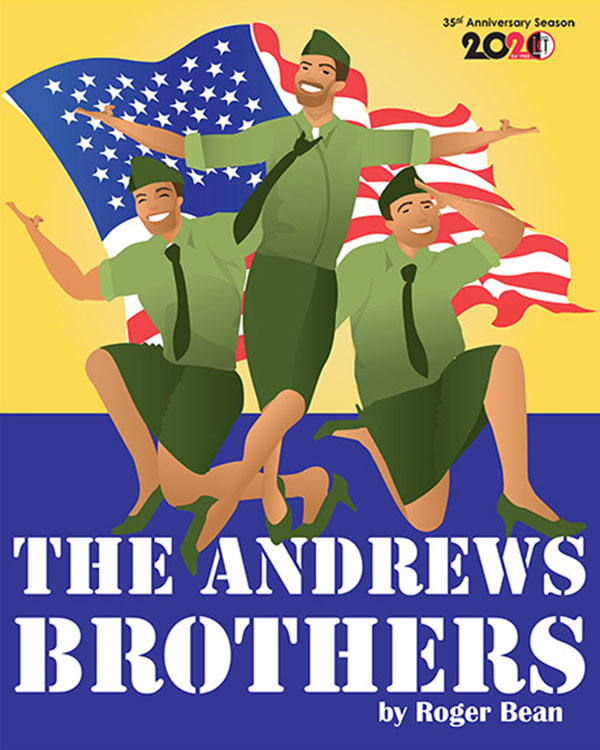 "The Andrews Brothers" A USO show is threatened with cancellation when a certain famous trio of singing sisters fails to show up, so it's left to three earnest and determined stagehands to go on with the show. Mistaken identities, zany adventures, a bit of cross-dressing and the music of an entire generation highlight this valentine to the heroes of World War II. Written by Roger Bean, and directed by Jamie Torcellini, it runs February 21 through March 8 at the International City Theatre Long Beach Performing Arts Center in Long Beach. For tickets call 562-436-4610 or visit www.InternationalCityTheatre.org.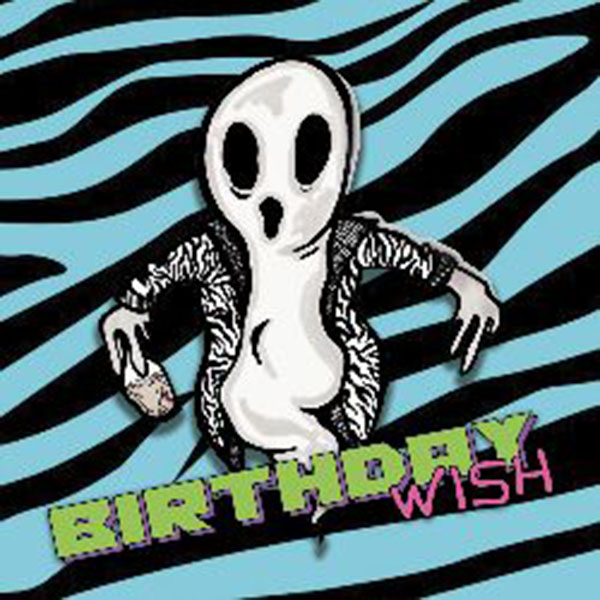 "Birthday Wish" All Claire wants for her birthday is for her rocker boyfriend to not break up with her. What she gets instead are crazy dreams, her dead dad, rock n' roll, and a better understanding of who she wants to be. Written and directed by Victoria Anne Greenwood, it runs February 21 through March 1 at the Loft Ensemble Sawyer's Playhouse in North Hollywood. For tickets call 818-452-3153 or visit www.loftensemble.org.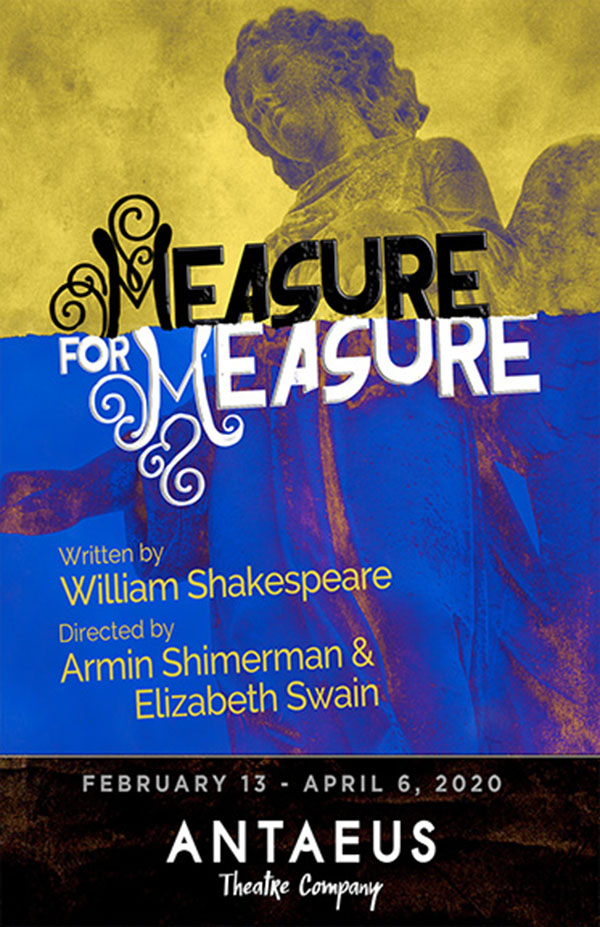 "Measure for Measure" Sex and hypocrisy abound in William Shakespeare's dark comedy about the corruption of power and authority, and the true nature of mercy and justice. His world is familiar: sex is a commodity, government is subject to the leader's moral whimsy, and licentiousness goes head to head with emergency powers to constrain and punish. Written by William Shakespeare, and directed by Armin Shimerman and Elizabeth Swain, it runs February 21 through April 6 at the Kiki & David Gindler Performing Arts Center in Glendale. For tickets call 818-506-1983 or visit www.Antaeus.org.




...and, if you hurry, there's still time to catch these ongoing productions: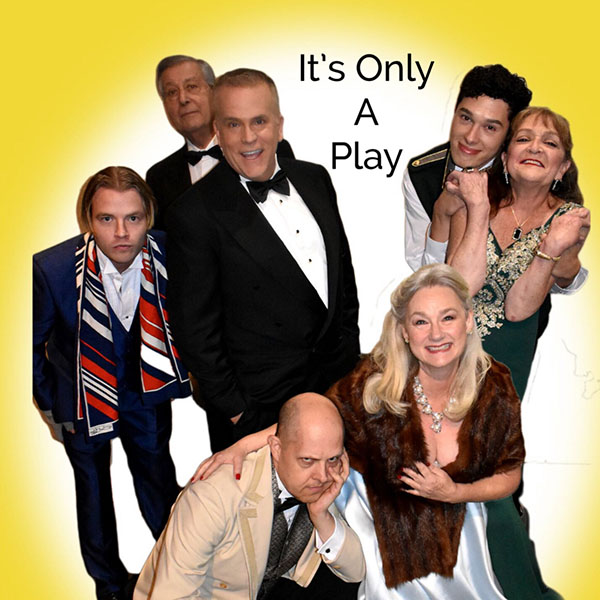 "It's Only a Play" It's opening night of Peter Austin's new Broadway play, The Golden Egg, as he anxiously awaits to see if it's a hit. With his career on the line, he shares his big First Night with his "best" friend, a television star, his novice producer, his doped-up diva, his genius director, a lethal drama critic, and a fresh-off-the-bus coat check attendant on his first night in Manhattan. It's alternately raucous, ridiculous and tender—and proves that sometimes the biggest laughs happen offstage! Written by Terrence McNally, and directed by Aric Martin, it runs through February 9 at the Morgan-Wixson Theatre in Santa Monica. For tickets call 310-828-7519 or visit www.morgan-wixson.org.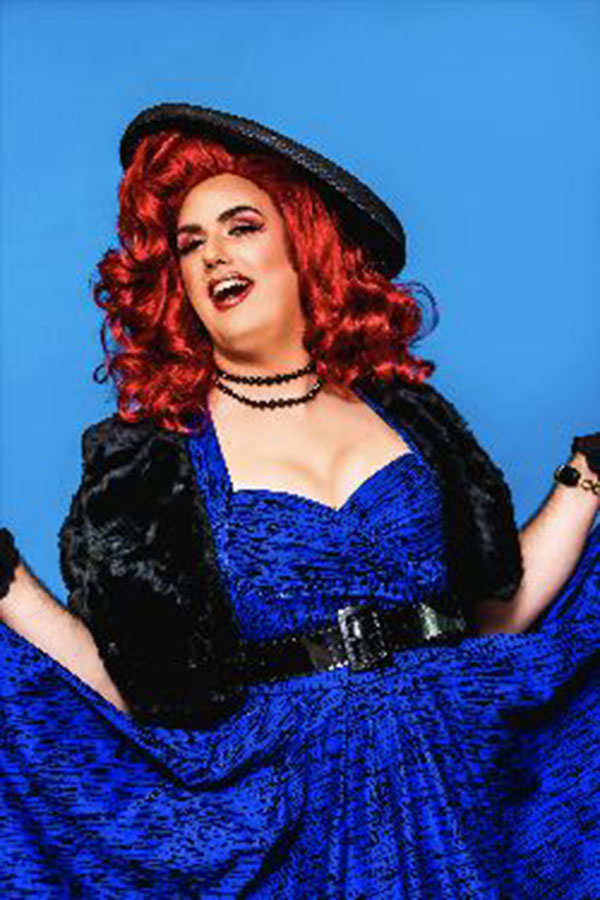 "The Legend of Georgia McBride" He's young, he's broke, his landlord's knocking at the door, and he's just found out his wife is going to have a baby. To make matters even more desperate, Casey is fired from his gig as an Elvis impersonator in a run-down, small-town Florida dive bar. When the bar owner brings in a B-level drag show to replace his act, Casey finds that he has a whole lot to learn about show business – and himself. A clever comedy wrapped in sequins, it features show stopping drag numbers with music ranging from Kesha to Judy Garland. Written by Matthew Lopez, and directed by Michael J. Marchak, it runs through February 9 at the Secret Rose Theatre in North Hollywood. For tickets call 818-605-5685 or visit www.crowncitytheatre.com.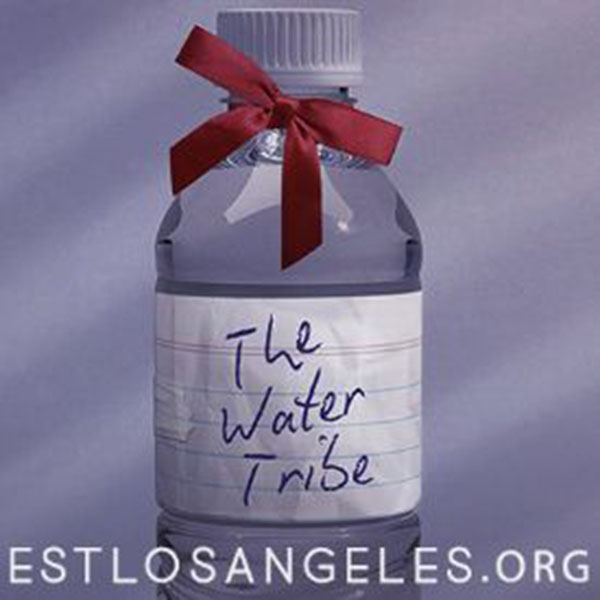 "The Water Tribe" Claudia is young, parentless, minimally employed, and almost without family or friends but she remains upbeat about her future and confident in her quest to form a personal tribe for herself and her boyfriend Johnny. But Johnny has problems of his own. He has launched into adulthood but still struggles to cut the cord from his concerned mother while searching for a connection to his long-absent father. As the few people Claudia has in her life begin to fall away and the problems in her relationship are laid bare, she teeters on the brink of catastrophe in this searing, darkly funny tragicomedy about the critical importance of community, identity, and home. Written by Don Cummings, and directed by Tricia Small, it runs through February 9 at the VS. Theatre in Los Angeles. For tickets call 818-839-1197 or visit www.estlosangeles.org.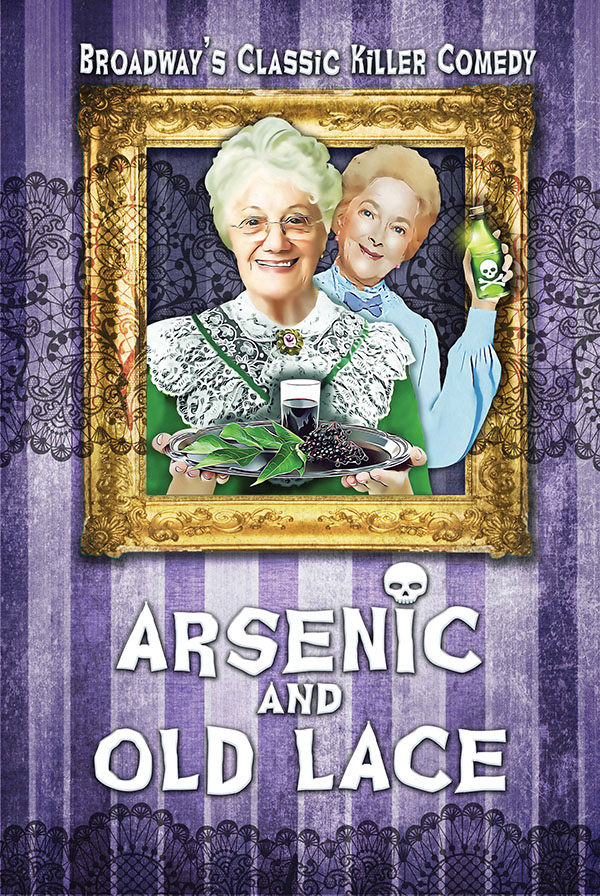 "Arsenic and Old Lace" Combining murder and mayhem with zany humor, here's an uproarious black comedy that gives "hospitality" a bad name! Meet Abby and Martha Brewster, two spinster sisters known for their acts of charity -- which lately includes poisoning lonely old men with arsenic-laced elderberry wine. When their nephew finds out about the corpses in the cellar, he's in a frantic race to deal with his aunts, his fiancée, and two crazy brothers – one who thinks he's Teddy Roosevelt and one who is a dead-ringer for Boris Karloff! Don't miss one of America's most popular comedies in a spiffy new production that will slay you with laughter! Written by Joseph Kesselring, and directed by Casey Stangl, it runs through February 16 at the La Mirada Theatre for the Performing Arts in La Mirada. For tickets call 562-944-9801 or visit www.lamiradatheatre.com.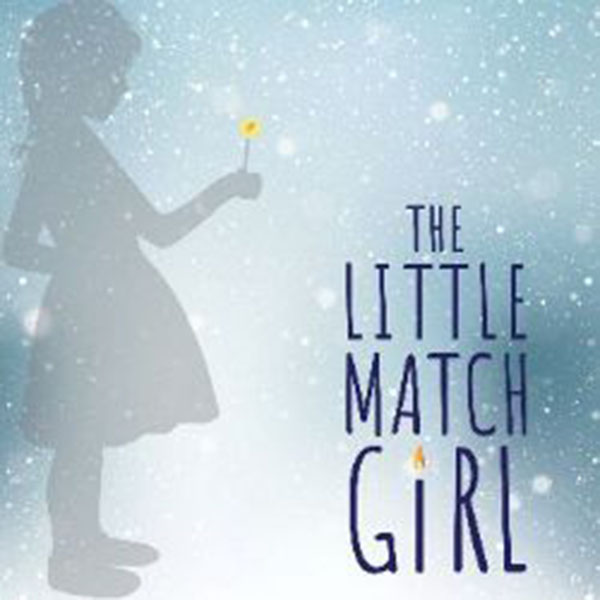 "The Little Match Girl" is a fantastical, heartfelt, piercing tale about love and forgiveness. This world premiere adaptation of the Hans Christian Andersen story reminds us of the importance of doing what's right, not what's easy. Written by Elizabeth Suzanne, and directed by Tor Brown, it runs through February 16 at the Loft Ensemble in North Hollywood. For tickets call 818-452-3153 or visit www.loftensemble.org.


"Steel Magnolias" How do you solve a problem like that child, Shelby? You don't. A tender, funny, sad funny play about the family tug of war between mother, (M'lynn) and daughter (Shelby) and their friends who all come to the same beauty parlor. Life and its issues get discussed and dissected in a very Southern and ladylike way. A perennial favorite of the American stage. Written by Robert Harling, and directed by Brandon Ferruccio, it runs through February 16 at the Theatre Palisades Pierson Playhouse in Pacific Palisades. For tickets call 310-454-1970 or visit www.theatrepalisades.org.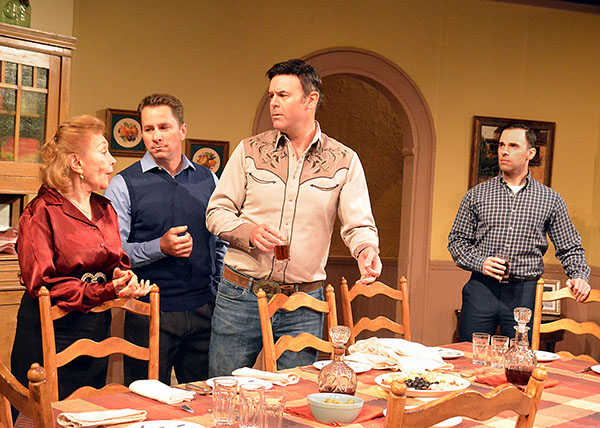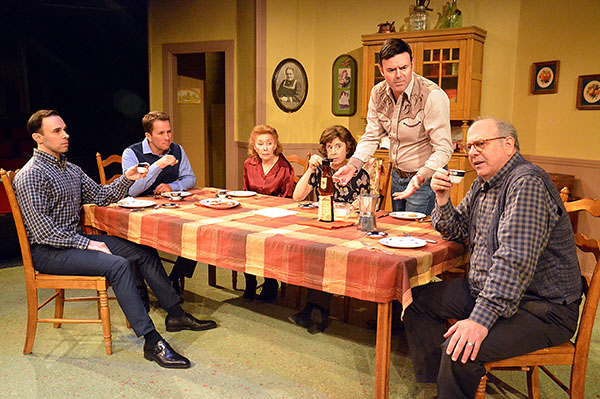 "Sunday Dinner" Michael Matera, a young priest in the Chicago Archdiocese, returns to his parents' home in the Bronx after his grandfather dies. The Matera clan is gathering at the family home for Sunday dinner. Soon after Michael arrives, his retired working-class father Eddie confesses a sin (more like a felony, really) to Michael. It's a misdeed which could have serious consequences for other members of the family. To Eddie's dismay, Michael refuses to grant him absolution. There are reasons for this (which won't be given away here; You'll have to see the play to find out). Eddie's not the only one with secrets. Michael has a few of his own. He's admitted to himself that he's gay, but he hasn't yet come out to his family. Things are about to get more complicated, as Michael's female ex-lover (who is still interested in him) has also been invited as a guest for Sunday dinner. Can the Materas withstand the weight of so much sin, secrecy and shame? Would revealing all cleanse the family or destroy it? Written and directed by Tony Blake, it runs through February 16 at the Theatre 40, in the Reuben Cordova Theatre in Beverly Hills. For tickets call 310-364-0535 or visit www.theatre40.org.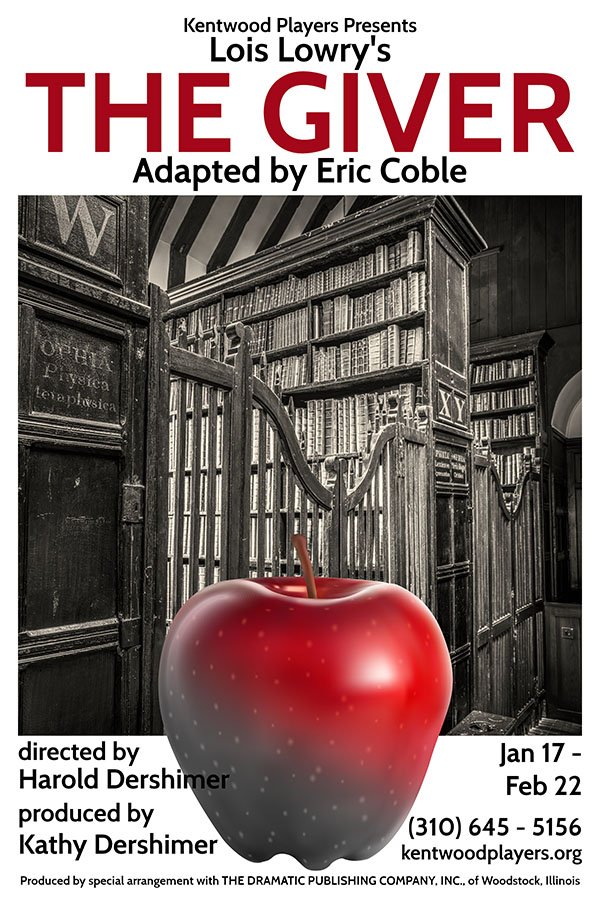 "The Giver" Life in the futuristic community where The Giver and Jonas live is idyllic. Designated birthmothers produce new children, who are assigned to appropriate family units: one male, one female, to each. Citizens are assigned their partners and their jobs and no one thinks to ask questions. Everyone obeys. The community is a precisely choreographed world without conflict, inequality, divorce, unemployment, injustice…or choice. Join us for this multimedia presentation as we follow Jonas' journey filled with heightened sensory experiences from a place of sameness… to elsewhere. Written by Lois Lowry, adapted for the stage by Eric Coble, and directed by Harold Dershimer, it runs through February 22 at the Westchester Playhouse in Westchester. For tickets call 310-645-5156 or visit www.kentwoodplayers.org.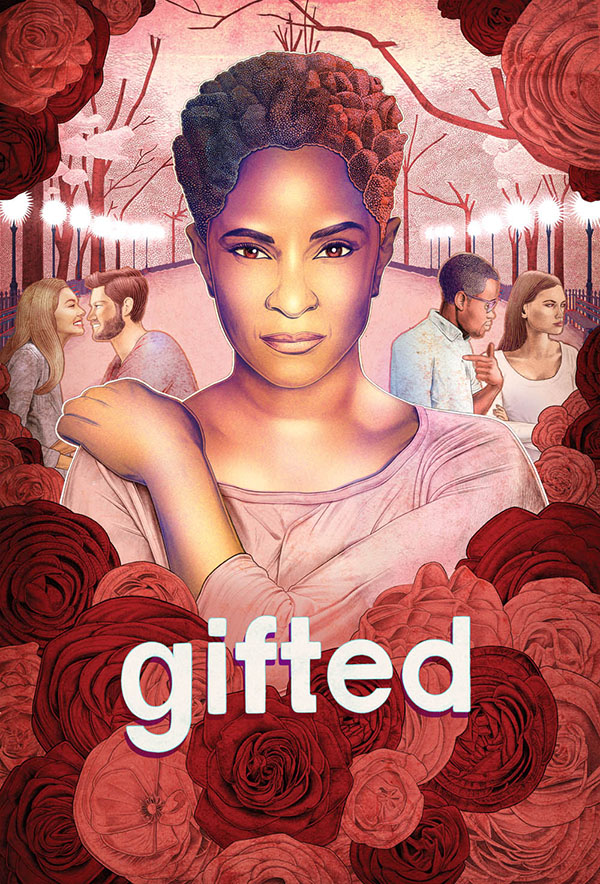 "Gifted" Ashlyn has a special power - she can tell the romantic fate of any couple she sees, but cannot tell the same for herself. Enter a world of love and longing, humor and heartbreak, with a touch of magical realism. There is no fear we can't face in this world, because we are all gifted. Written by Bob DeRosa, and directed by Rebecca Larsen, it runs through February 29 at the Broadwater Black Box in Los Angeles. For tickets visit www.sacredfools.org.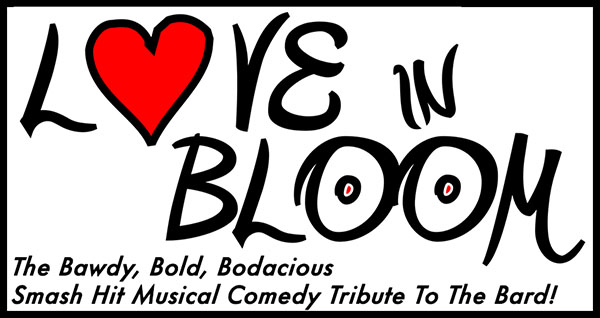 "Love in Bloom" Magic and mayhem, fops and fairies, mistaken identity, romance and humor abound in this tongue-firmly-in-cheek evening of theatre. The eight-member cast, in the renowned Actors' Repertory Theatre commedia-carnival style, creates a host of over thirty characters, bringing to the stage all the stuff that dreams (and musicals) are made on. Written and directed by Chris DeCarlo and Evelyn Rudie, with music by Evelyn Rudie with Matthew Wrather, it runs through March 1 at the Santa Monica Playhouse in Santa Monica. For tickets call 310-394-9779 Ext. 1 or visit www.SantaMonicaPlayhouse.com.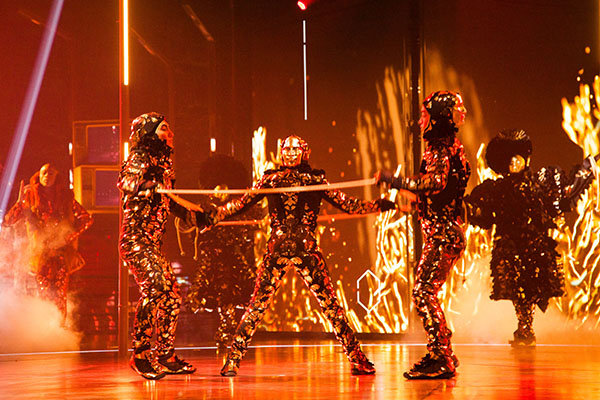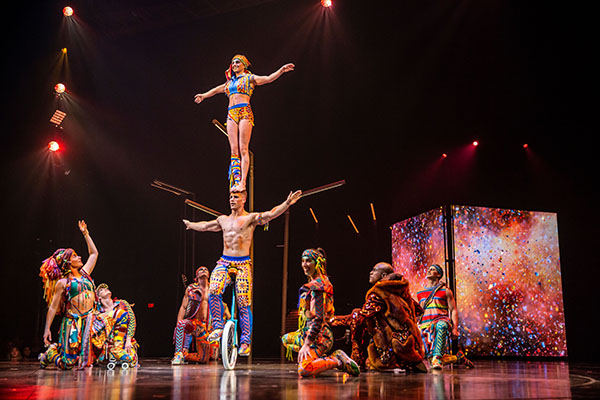 "Cirque du Soleil VOLTA" is a captivating voyage of discovery that showcases never-before-seen under the Big Top acrobatics in a visually striking world. Driven by a stirring melodic score and inspired in part by the adventurous spirit that fuels the culture of street sports, VOLTA is a story of transformation. It is about being true to oneself, fulfilling one's true potential, and recognizing one's own power to make it possible. Ultimate freedom comes with self-acceptance, and with the liberation of the judgement of others. Written by Bastien Alexandre, with music by Anthony Gonzalez, and directed by Bastien Alexandre and Jean Guibert, it runs through March 8 at the Dodger Stadium (Under the Big Top) in Los Angeles. For tickets call 877-924-7783 or visit www.cirquedusoleil.com/volta.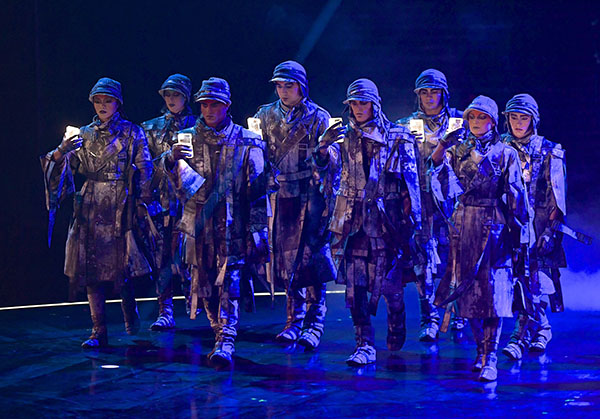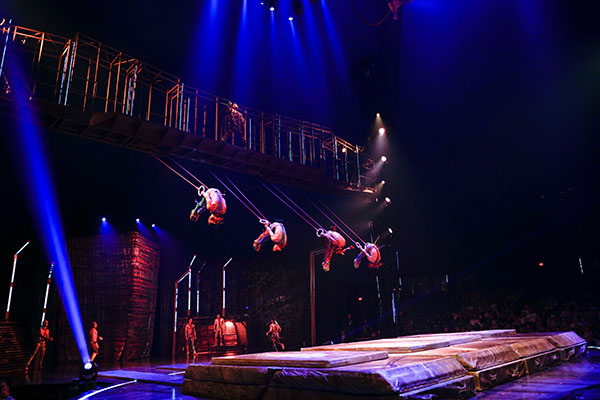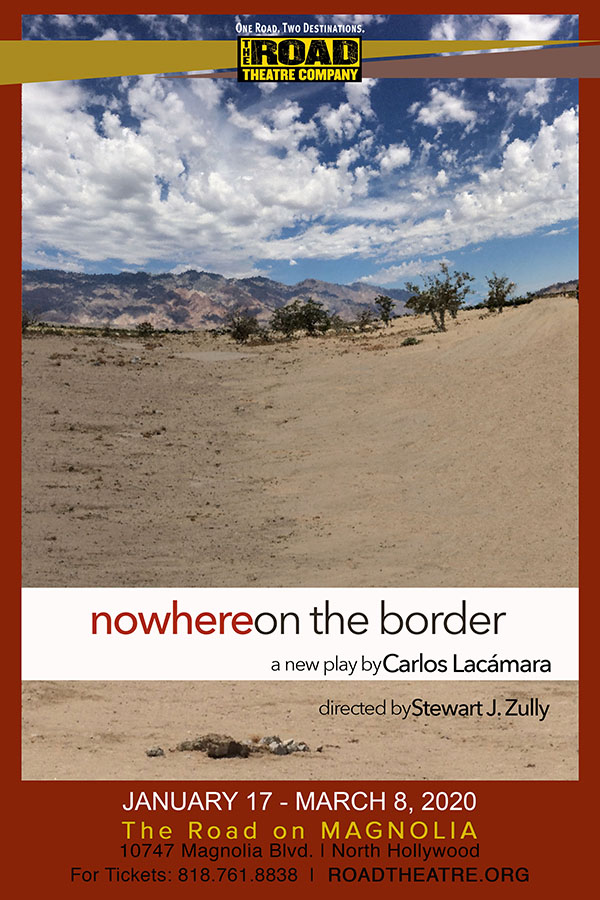 "Nowhere on the Border" A border watch volunteer confronts a Mexican man who claims to be looking for his missing daughter. Set in a hostile wasteland between nations, the story reveals the personal dramas that drive people to cross borders both physical and emotional. Written by Carlos Lacamara, and directed by Stewart J. Zully, it runs through March 8 at the Road on Magnolia in North Hollywood. For tickets call 818-761-8838 or visit www.roadtheatre.org.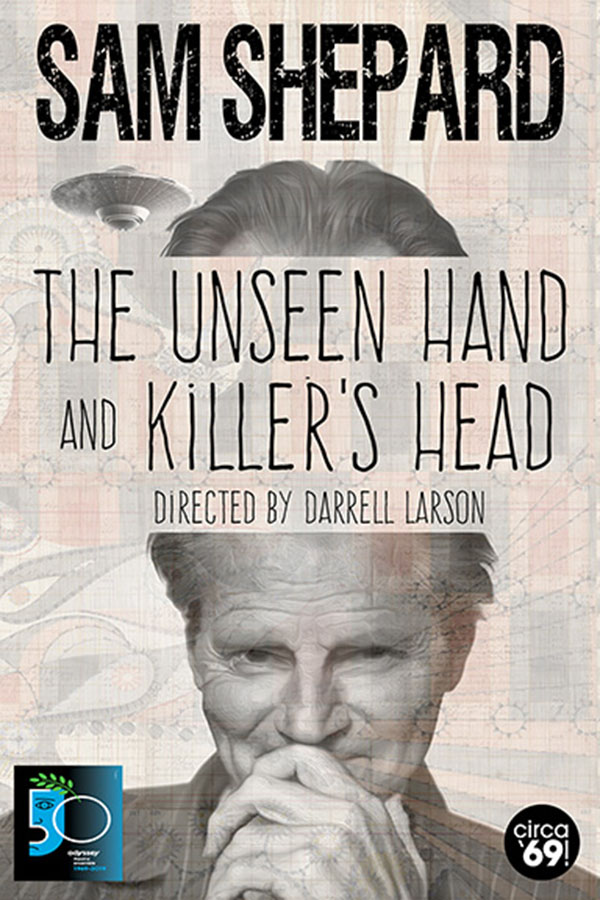 "The Unseen Hand and Killer's Head" What happens when 1880 Western bandits are brought back to life in Azusa, CA by a space alien? E.T. meets the Old West in Sam Shepard's The Unseen Hand, a hilarious yet foreboding sci-fi Western about a trio of legendary cowboys resurrected to help a mutant extraterrestrial free his people from slavery. The evening also includes Shepard's gritty and audacious Killer's Head, a murderer's monologue delivered as he awaits electrocution, performed by a rotating cast of prominent actors including Steve Howey and Dermot Mulroney. Written by Sam Shepard, and directed by Darrell Larson, it runs through March 8 at the Odyssey Theatre in Los Angeles. For tickets call 310-477-2055 Ext. 2 or visit www.OdysseyTheatre.com.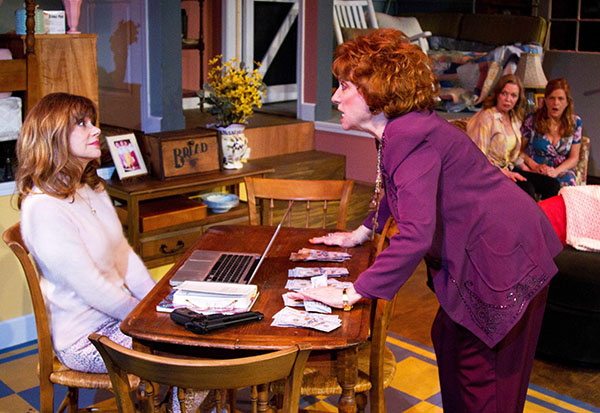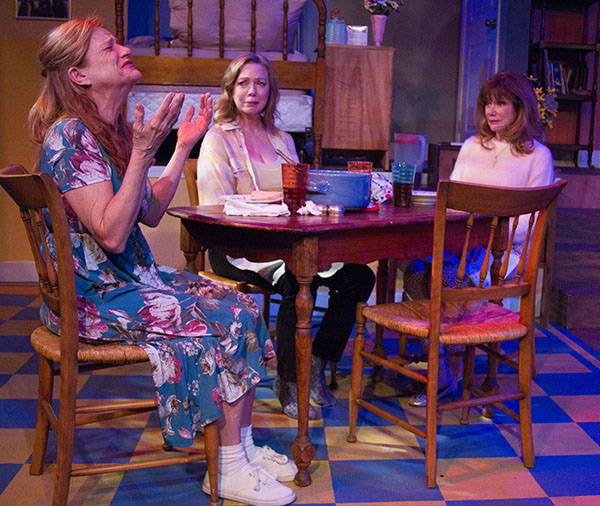 "This Side of Crazy" Ditty Blaylock, the most prolific singer in gospel music history, is being honored by "Gospel Music Network." All the stars are aligning to sing Ditty's songs on her TV special. But there is one glitch. A little hiccup. Ditty has promised a reunion of The Blaylock Sisters, her three adult daughters who were once national sensations – "little superstars for Jesus." Rachel, the oldest sister, who lives with Ditty, is furious when she finds out that her baby sister Bethany, an atheist and lesbian, and Abigail, her middle sister, who has "anger issues" and is currently confined to a mental facility, are headed home. What the public is unaware of is that these complicated sisters have been estranged for over twenty-five years - and extreme past circumstances, including a husband left in a coma, have made reconciliation impossible. Once reunited, secrets are revealed, tempers flare and family wounds are exposed. Written and directed by Del Shores, it runs through March 8 at the Zephyr Theatre in West Hollywood. For tickets visit www.delshores.com.


"Mistakes Were Made - Coulda-Woulda-Shoulda" Dick's mistake: He let a sexy, blue-eyed winker threaten his marriage. Jeff's mistake: He turned down a dream job, then later, screamed, "You idiot!" Mel's mistake: He hired a famous money manager, now famous for stealing money. Dick's wife's mistake: She trusted him, then learned of his affair and had one too. NOBODY'S PERFECT! But mistakes can be fixed, between husbands and wives, girlfriends and boyfriends, fathers and sons. Written by Jerry Mayer, and directed by Chris DeCarlo, it runs through April 5 at the Santa Monica Playhouse in Santa Monica. For tickets call 310-394-9779 Ext. 1 or visit www.SantaMonicaPlayhouse.com/mistakes.html.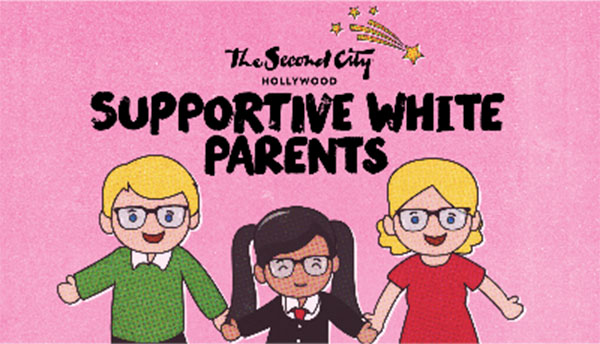 "Supportive White Parents" When an Asian girl tells her parents that she doesn't want to be a doctor anymore, she wishes on a shooting star for supportive white parents. Written by Joy Regullano, with music by The Sam & Tony Show, lyrics by Joy Regullano, and directed by Frank Caeti, it runs through April 24 at the Second City Hollywood Studio Theatre in Hollywood. For tickets call 323-464-8542 or visit www.secondcity.com/shows/hollywood.

Enjoy life more – see a show tonight!